The Manual
TO EVERYONE WHO WANTS TO COMPOST, BUT CAN'T, BECAUSE THE CRITTERS THAT SHARE THE NEIGHBORHOOD WILL ALSO WANT TO EAT THE COMPOST:
BUY NOW AND RECEIVE A 40% DISCOUNT
You live where you want to live, in an area with plenty of wildlife, large and small. In fact, being close to nature is one reason you chose to live there.
You want to compost, because you know that composting is the only ecologically sound solution to disposing of kitchen waste.
But setting out a snack bar for bears is just plain dangerous!
Most composters can't begin to keep out bears. Few are even safe against a determined raccoon.
No one wants to meet a mother bear while out emptying the compost bucket. And while they may look cute, a raccoon can kill your cat or dog, and seriously injure a small child.
Skunks? Enough said.
Even rats can cause thousands of dollars worth of damage if they're drawn by your compost and end up moving into your house to stay close to the food.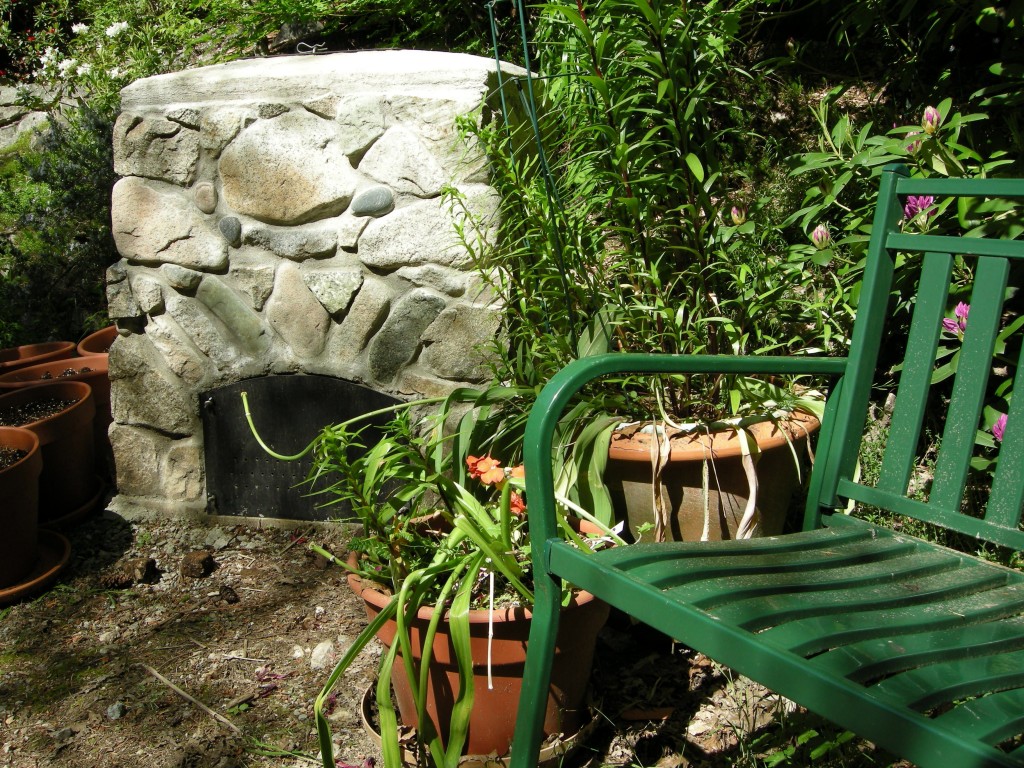 An exquisite piece of garden furniture that just happens to keep bears out of the compost.
THE CRITTER-PROOF COMPOSTER™ IS AN ANIMAL-PROOF COMPOSTER THAT LIVES UP TO ITS NAME – AND LETS YOU COMPOST MORE KINDS OF KITCHEN WASTE, WHILE PRODUCING TOP-QUALITY COMPOST!
• The Critter-Proof Composter™ will keep out rats, skunks, raccoons, and yes, bears.
• The Critter-Proof Composter™ lets you compost more than just uncooked vegetable and fruit trimmings. With a Critter-proof Composter™, you can compost kitchen wastes you wouldn't dare put in a plastic bin, including leftover cereals and baked goods, moldy cheese, prawn shells and fish bones.
• The Critter-Proof Composter™ is a stunningly attractive piece of stonework that adds beauty and value to your garden. The Critter-Proof Composter™ is the only composter on the market that's as appealing on the outside as the life-cycling process that's going on inside.
• The Critter-Proof Composter™ gives you top-quality "black gold" to feed your garden. Unlike plastic bins, the Critter-Proof Composter™ maintains an even moisture and heat level on the hottest days. No dried out dead compost around the edges.
• The Critter-Proof Composter™ is a one-of-a-kind addition to your garden that you can personalize in any way you'd like. You choose your stones, and the pattern you use to lay them. When you pour the top, you have a blank slate – fresh concrete to immortalize your children's handprints, your names, or anything else you'd like to implant or inscribe on the top.
A CRITTER-PROOF COMPOSTER™ IS FOR YOU IF:
• You like composting, but worry about attracting animals
• You've had plastic bins turned over and trashed by raccoons or bears
• You'd like to be able to compost more of your kitchen wastes than vegetable and fruit trimmings
• You want to keep the area you live in safe for the wild animals that live there
• You operate a ski resort or a nature centre and need an ecologically sound solution for kitchen wastes
• You run a summer camp, and want to teach ecological living to teens, while giving them a great project to work on
• You live in a rural area, and know you could bring your neighbors together for composter building bees
• You're a contractor or landscaper looking for an exciting new product to add to your line
• You run an eco-sensitive gardening and landscape service
• You're a school teacher and you want your students to learn about composting, but you can't do it if the composter attracts critters of any kind.
Laurie Chambers invented the Critter-Proof Composter™ after watching a bear claw her way into his new cedar plank compost bin in 20 minutes flat.
He built his first Critter-Proof Composter™ in 2008. Friends wanted them. The local elementary School wanted one. So did the community garden.
There are now close to 20 Critter-Proof Composters™ up and running, including one in the City of Vancouver's Urban Farmer Compost Demonstration Garden. Not only do we know it keeps out the bears, we know it produces magnificent compost.
But Laurie is just one guy, and he can't solve the world's composting problems alone.
That's why we've collaborated to create HOW TO BUILD A CRITTER-PROOF COMPOSTER™, a detailed, richly illustrated how-to instruction manual that will teach you to build your own.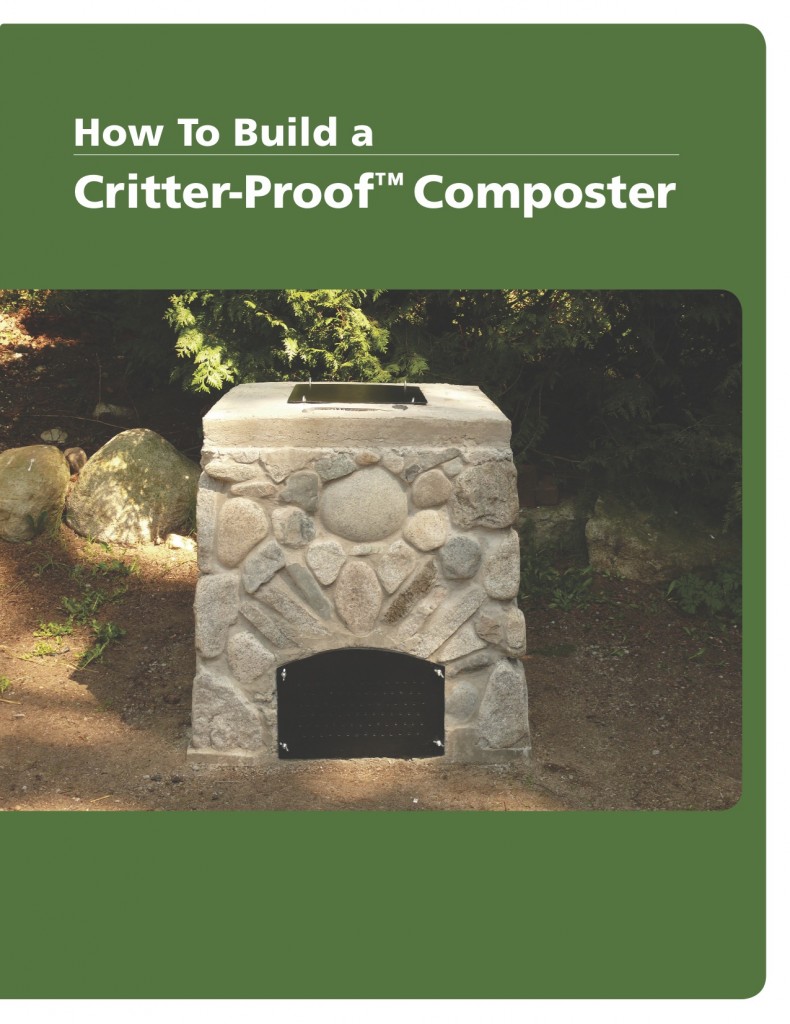 It's taken two years to produce, and several months more to test.  Now we're finally ready to share it with the world.
Both Laurie and I care about the environment, and we care about wildlife. We'd like to make some money from the sale of the manual, because we put a lot of time and energy into creating it. But for us, it's less about money than about spreading a really great idea as far and as wide as we can.
SPREAD COMPOST . . . . . . . . AND A REALLY GOOD IDEA
This is your chance to come in early. And to reward those of you who want to help us send Critter-Proof Composters™ into every corner of the world, we're making a special, deeply discounted introductory offer.
Buy the manual as a downloadable ebook. Print it yourself and save the mailing costs. $69US/$39US

WHAT YOU GET:
We've provided you with everything you need to succeed. We hired an architect to do the drawings of the forms. If you can read drawings, you'll find clear and easy to understand. We've photographed every step along the way.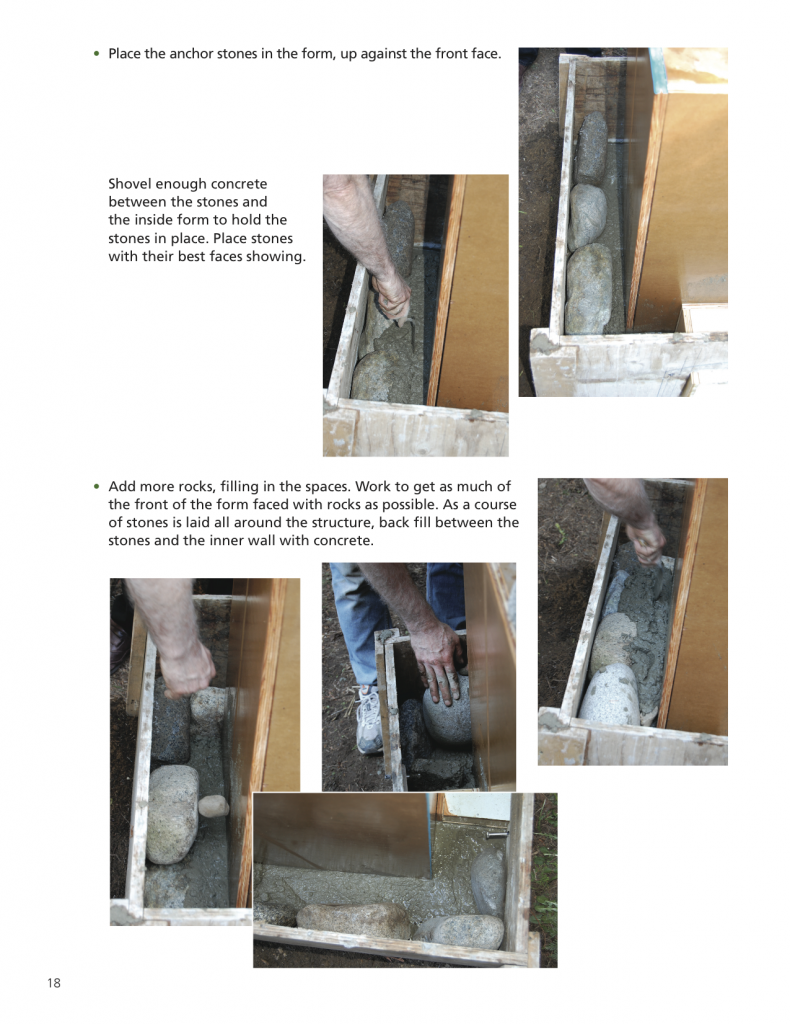 Clear photos and step-by-step instructions
YOU GET:
• Easy-to-follow instructions.
• A 45-page manual, professionally written, photographed and illustrated
• 70 step-by-step color photographs
• 16 detailed drawings
BECAUSE WE BELIEVE GOOD ORGANIZATION SAVES TIME, YOU'LL ALSO GET:
•  A list of materials
•  A list of tools you'll need
• A list of the skills you need
• A tear-out materials shopping list in the back of the manual
AND JUST IN CASE YOU HAVE QUESTIONS:
• We're as close as your email. We'll answer your questions, as much as possible within 24 hours.
• Design updates. If we make an improvement to the design, you'll be notified and you'll get the updates, free.
WHAT'S STOPPING YOU?
Before you decide to buy, you have to know that building a Critter-Proof Composter™ is not for everyone.
If you're a contractor, a mason, a landscaper or even just all-round handy, then fine, go ahead.
But if you've never poured concrete, or built anything from plywood, you might want to think twice. If you decide to go ahead, know that building the forms is one of the most technically challenging parts.
Once you have the forms, the rest of the project requires less in the way of skill – although there is artistry involved in the laying the stones so the face of the composter looks good.
The cost of building the composter will vary depending on where you live, and whether or not you have a supply of suitable rocks, or have to buy them. Your costs will include three sheets of plywood, some cement and gravel, the aluminum doors, the hardware, and a small amount of additional wood. Where we live, it costs out at $200. And when you're done, the forms can be used again.
BECAUSE WE'RE LOOKING FOR PEOPLE WHO WANT TO BE IN AT THE BEGINNING:
Buy the manual as a downloadable pdf. Print it yourself and save the mailing costs.  $69US/$39US

If you need a Critter-Proof Composter™ but can't make it yourself, we'll make one for you, if you live in southwestern B.C.
Depending on travel and materials, we'll build you a Critter-Proof composter for between $600 and $1,200.
If you live outside our area, and we have a Critter-proof Composter™ builder close to you, we'll put you in touch.
MONEY- BACK GUARANTEE
If for any reason you are dissatisfied with the manual, we'll refund your money, no questions asked, on receipt of the book, or if you downloaded it, with your word that you'll delete the file.
p.s. Buy now and you'll save.
p.p.s. Not ready to buy now? Send us your email – the sign-up box is in the upper right hand corner – and we'll keep you posted on Critter-Proof news, including the new double capacity composter Laurie is developing.