Thank you to everyone who responded to our call for people to test-drive the manual for the Critter-Proof Composter.
We have picked five testers, all wanting to build for different reasons, all in different stages of completion.
So far, rocks have been collected, forms have been built, concrete has been poured. April has not been a cooperative month for concrete work so far, but we're optimistic that within two weeks we'll have finished bins to report on.
Steve Tuey is a contractor, based near Rossland, B.C., who wants to add the composter to his product line this summer. Laurie and I were thrilled to get his initial response to the manual: "Very nice work.  This must have taken a bit of time to create. Really professional."
So far he's been able to build the forms inside, and reports:  "all the plans to this point work fine. It took two guys working steady with tools prescribed for nine hours."
Erin McPhee lives in White Rock, B.C., 40 miles south of Vancouver. She would like to compost but doesn't want to bring back the rodent problem that existed when her family first moved into their house. She knew about the composter in part because her sister Heather lives in Wildwood and has one of Laurie's original composters, As Erin says, Heather "raves about it."
Erin's at the stage of preparing ground and gathering rocks. Her husband Doug will be building the forms.
The bonus? Because she's an hour's drive away, I'll be able to visit and see how it goes.
James Zeman, in Central Texas, only has raccoons to contend with, but he wants a good-looking composter, and loves the look of this one.
Diana Taylor lives near the Vermont New Hampshire border. She wants to build a stone house, and is looking for a smaller project to learn on. Diana is waiting for better weather to begin.
Dan Egan, a Naturalist at Camp Mason, a YMCA camp in western New Jersey, was looking for ways to reduce waste at the camp, without encouraging visits from the local black bears, "the largest problem with compost in New Jersey."
Right now, Dan is closest to completion.
"Some April wet weather has been hindering progress on the composter but progress regardless is being made," he wrote two weeks ago.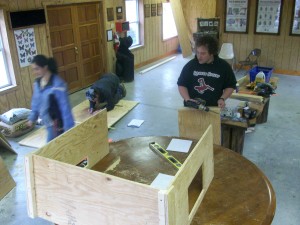 "Last week, we assembled the forms, and placed rocks and poured concrete for the compost adjacent to our camp's vegetable garden. We had to tarp it for the past four days during the rains but I just began this morning taking the forms apart. It looks nice but we still have work to do mixing and mortaring the four faces, building and pouring the concrete for the top and finishing up with the doors."
So far, so good.
What happens next?
Once we've had a few successful builds, I'll collate whatever improvements our testers suggest and pass them on to Marla Britton, the design part of our team.
She'll incorporate them into the Critterproof Composter Manual 2.0.
Then, at last, we'll be able to offer a download of the manual for sale.
Would you like to know as soon as it's available?
Then add your name and email to our mailing list. (Look for the box in the upper right-hand corner of the page.) It's easy and free, and you will receive no spam.