The bins just keep coming. There are now 12 Critter-Proof Composters doing the good work of turning kitchen waste into living earth. Almost all of them are in and around Powell River, B.C.
Early in October, we built the first Critter-Proof Bin in Greater Vancouver in the City Farmer's Compost Demonstration Garden.
The garden keeps a sample of every widely available composter on hand, and advises anyone interested in composting on how to go about it. There's also a garden compost hotline (604-736-2250). Those blue bins behind me are City Farmer's old worm composting bins. It's composting central, and we were honored to be invited to build a bin.
Mike Levenston, the garden's executive director, took a video the day the bin was completed. You can view the full two minutes by clicking here.
If you're in the Lower Mainland, come and check out the composter. The Garden is at 6th Avenue and Maple Street, with the entrance off the lane.
We had a great time putting the bin together – two hot and sunny days for the form work, and a final day, cool enough to wear a sweater, for finishing it off and installing the doors.
Here's a shot of the cement mixer under City Farmer's grape arbor. In these surroundings, even the cement mixer looks good.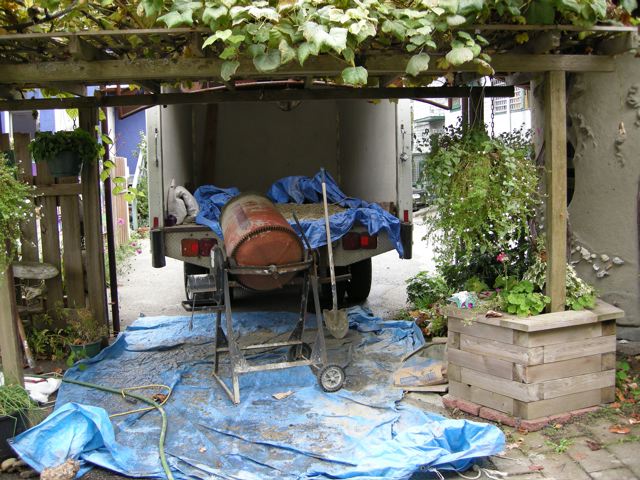 And here's the finished bin. Somehow every one of them seems to be the most beautiful one so far. This is bin number nine. Can you spot the accidental daisy?